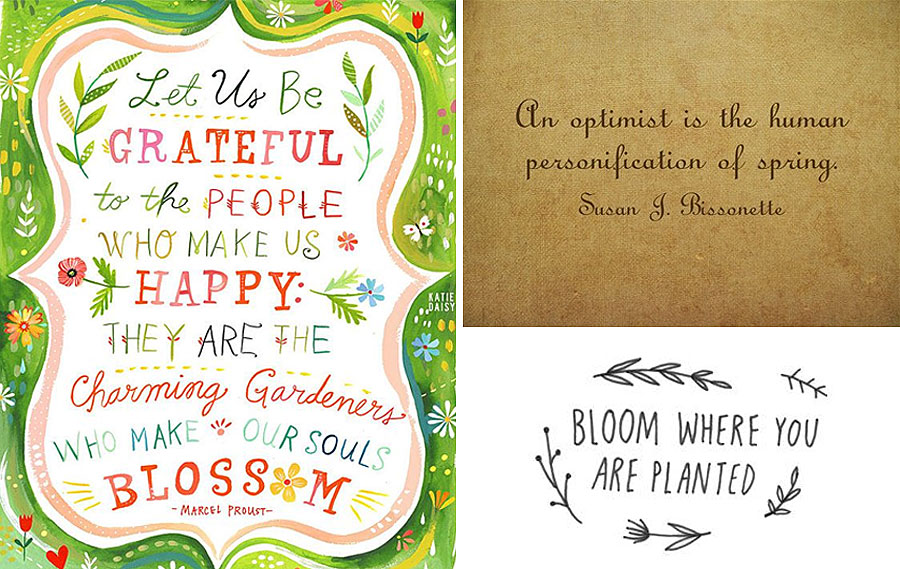 V zadnjem času se dogaja ogromno stvari. Dogodki oziroma izkušnje, ki spreminjajo življenje. In spreminjajo mene… mojo družino… moj vidik na življenje. Vedno znova. In vse te "težke" stvari, ki se dogajajo, se vedno zgodijo z razlogom, kot vedno pravim. Čeprav je včasih tako težko razumeti. Toda včasih je bolje, da jih niti ne poskušaš razumeti. Samo sprejmeš vse "slabe" stvari takšne kakršne pač so in v njih najdeš dobro. In se kmalu zaveš, da je vse točno tako kot pač mora biti… In to ti da še več zaupanja, te naredi močnejšega in ti odpre vidik na večji pomen življenja.
Ko ugotoviš, da ima nekdo v družini raka je vedno šokantno. Izgubiš stik s tlemi. In nenadoma vsi "veliki" problemi izgubijo njihovo veličino in postanejo neverjetno majhni. Izginejo. In zaveš se, da je samo ena stvar, ki je zares pomembna. Pravzaprav bolezen odpre okno, da vidimo širšo sliko življenja, da stopimo korak nazaj in pogledamo vase, na svojo družino, na prijatelje, na življenje in na celotno vesolje. In postanemo hvaležni. Za vsak dan, vsako uro, vsako minuto in vsak preživet trenutek.
Nekaj ​​dni nazaj sem prebrala tole:
"Naj bo ena stvar na začetku jasna . Življenje je neprekinjeno zaporedje majhnih in velikih problemov. Nikoli se ne konča . Komaj dobiš nadzor nad eno situacij, te že udari druga. Življenje je proces "dva koraka naprej in en korak nazaj."

Ko postaneš uspešen, se preprosto izmenjujejo ene vrste problemov z drugimi. Ni važno, kako pametni in iznajdljivi in previdni ste, se boste soočili z izzivi , težavami in žalostjo, vsak dan, teden in mesec svojega življenja."
Vsak ima svojo življenjsko pot. In ravno ta hoja po tej poti nas krepi in utrjuje. In postajamo večji, kot smo kadarkoli mislili, da smo lahko. To jutro sem se zbudila zgodaj. Ptički so peli svojo pesem. Orhideja na kuhinjskem oknu je odprla popek in začela cveteli. Topli sončni žarki so sijali v hišo in prinašali svetlobo. Phoebe in Free sta spali na preprogi in ko sem stopila iz spalnice, je njun rep veselo začel migati levo in desno. Pretegnila sem se močno proti nebu. In se zahvalila za ta trenutek. Hvaležna da sem. Hvaležna da diham. In hvaležna, ker vem da bo vse OK. <3

| english |
Lately, lots of things happen. Life-changing experiences on many levels. But those experiences has changed me…my family…my point of view on life. Again. All those "hard" things that happen always happen with a reason as I always say. Sometimes it's really hard to understand. But sometimes it's just better not trying to understand them. You just accept the "bad" things as they are and you find the good in them. And soon you realize that everything is OK, just as is should be… And this things soon gain you more confidence, make you stronger and first of all, they make you find greater meaning of life.
Finding out that one of your family member has cancer is always shocking. You lose your connection with the ground. And suddenly…all the "big" problems lose their greatness…and become so very small. They disappear. And you realize there is only one thing that matters. A cancer enables you to look at the bigger picture, to step back and have a look at yourself, your family, your friends, life, the universe. And you become grateful. For every single day, every hour, every minute, every single moment spent.
A few day ago I read this:
"Let's make one thing clear at the beginning. Life is a continuous succession of both small and large problems. They never end. No sooner do you get control of one situation when you are hit by another. Life is a process of "two steps forward and one step back."

When you become a great success, you simply exchange one type of problem for another. No matter how smart and clever and careful you are, you'll face challenges, difficulties and sometimes-heartbreaking adversities every day, week and month of your life."
Everyone has its own life path. And walking on this path of life make us strong. And greater than we ever thought we can be. This morning I woke up really early. The birds were singing their song. The orchid on the kitchen window started to bloom. The sun rays were shining in the house so very bright and warm. Phoebe in Free were sleeping on the carpet and started waving their tail when I came from the bedroom. I raised my hand high above me, high into the sky. And just felt so very grateful for this moment. Grateful to be. Grateful to feel. Grateful to breathe. And grateful to know that everything is going to be OK. <3
Lep sončen dan, | Have a nice sunny day,